Lighting Installation Services in White Plains, NY
Is your front entrance dark and in need of lighting installation? Do you go to flip your bedroom light on and find yourself still standing in the dark? Your electrical lighting is a vital part of your home. When your lights aren't working, it can be a major inconvenience. Whether it be a faulty lighting fixture or a larger electrical issue, these are problems that you want to address right away.
Improving the lighting in your home is one of the cheapest and most dramatic ways to change your level of comfort. Using LED lighting can also bring you yearly savings from your electricity bill. We can convert your current lighting setup to better suite new LED technology and help increase the value of your household or business. We always use high-quality wiring materials and can route wires through walls with the full repair of entry and exit holes.
For more information on our lighting installation services or to schedule an appointment with one of our professional electricians, contact us online or give us a call today at (914) 310-6609.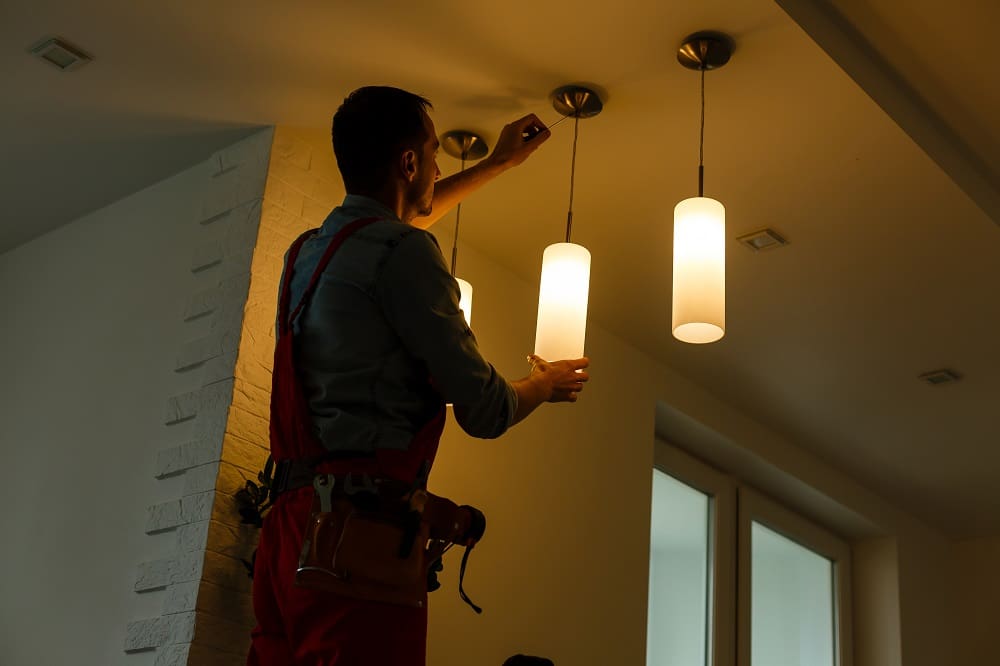 Our Lighting Installation Services
Maybe your lights are working, but they're incredibly outdated. Unfortunately, this presents a problem, as old lighting fixtures can be a safety hazard (not to mention an eyesore). Fortunately, the team at Red Star Electric can help update your old lighting fixtures or repair your current ones!
Our expert team of technicians is proficient in various types of light installation. With consistent training and extensive expertise, our professionals can perform a wide range of light replacements. Are you looking for recessed lighting fixtures? Under-cabinet lighting solutions? We do it all! Here's a list.
Red Star Electric's Various Types of Light Installation:
LED Lighting Installation
Indoor Lighting
Spot Lighting
Wall Lighting
Light Fixture Installation
Can Lighting Installation
Recessed Lighting Installation
Ceiling Lighting
Outdoor Lighting Installation
Parking Lot Lighting
Motion Sensor Lighting
Pool Lighting
Energy-Efficient Lighting
Existing Lighting Maintenance and Repair
In addition to the services listed above, we can also help you find the right fixtures for any situation. With years of experience in the electrical and lighting business in Westchester County and Rockland County, we've seen nearly every kind of lighting installation you can imagine, and can advise the best use of lighting for your particular space.
Whether it be residential or commercial, indoor or outdoor, our team of expert electricians can provide the exact type of lighting installation that is best for your property. If you feel that it is time to update your lighting or lighting fixtures, contact Red Star Electric, your trusted Westchester County, and Rockland County electrical services provider.
Lighting Repair Services
We understand how irritating it can be when your home's interior or exterior lighting isn't working properly. Living in the dark can cause several issues, the biggest being the risk of personal injury due to insufficient lighting. Even your family's safety is in jeopardy because homes without proper lighting are at an increased risk of burglary or trespassing. This is why it's essential to ensure your home's lighting and lighting fixtures are always at peak performance.
The team at Red Star Electric can help you turn the lights back on with one of our many lighting installation and lighting repair services. Our technicians will visit your home to troubleshoot any lighting issues and promptly resolve the issue so that you can get out of the dark!
Call Red Star Electric For Your Lighting Installation & Repair Needs!
If you find yourself in need of lighting installation or lighting repair services, the team at Red Star Electric is here to help. Our professional electricians are committed to providing your home with exactly what it needs, from routine electrical services to emergency repair services. We pride ourselves on our commitment to quality work and customer satisfaction, always treating your home with respect as if it were our own.
For more information on our lighting installation and repair services or to schedule an appointment with one of our electricians, contact us online or give us a call at (914) 310-6609. Our electrical professionals are standing by to assist you.