Residential Electrical Services in White Plains, NY
Homes rely on electricity more today than ever, which makes having access to a residential electrical services provider that you can trust very important. Homeowners need electricity for more than just powering appliances and devices. Everything from home security systems, indoor and outdoor lighting, cooling and heating systems, and even swimming pools and spas depend on functional electrical wiring.
Red Star Electric's mission is to keep White Plains, NY wired. Our residential electrician service covers every issue your home may experience, large or small. Our electrical technicians handle all the problems that modern homes experience, from sparking outlets and flickering lights to failed circuit boards and complete rewiring. 
For more information on our residential electrical services in White Plains, or to schedule an appointment with one of our professional electricians, contact us online or give us a call today at (914) 310-6609.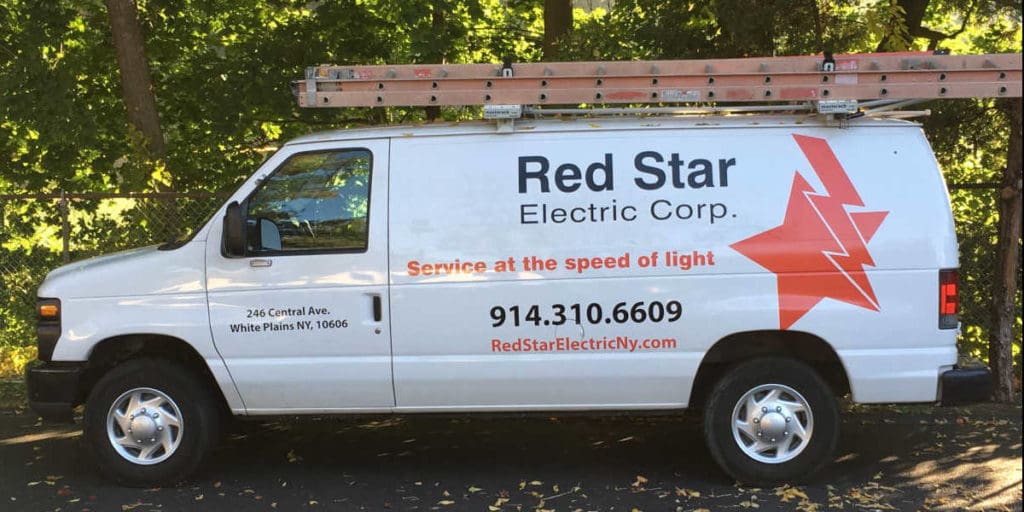 Residential Electrical Services from Red Star Electric
Whether your house is large or small, new or old, Red Star Electric's experts have the experience and expertise to take care of all its electrical needs. Our professional electricians can do more than just repair your most pressing electrical issues. We also offer advice on regulating and reducing your energy usage. We strive to provide the best residential electrical services company in White Plains, NY. Some of the electrical services we provide include:
Smoke Detector Installation

Attic and Basement Fan and Exhaust Maintenance

Complete Electrical Remodeling
Red Star Electric's electrical experts always take the time to explain all your electrical repair options. We get to know your home's electricity profile from top to bottom and offer suggestions on what parts and services fit best for your home's typical usage level.
Our customer service philosophy is built on relationships, both during and after our electricians visit your home. We help our customers in White Plains, NY stay informed and current about the electrical options they have. Our customers give us consistently strong reviews for our efficiency, cleanliness, precision, and courtesy. We're eager to get to work on your home.
When to Call the Electricians at Red Star Electric
The electric circuits of even the smallest homes are complex structures. It's not always easy for homeowners or residents to pinpoint what's going wrong — and it's always risky for them to attempt repairs themselves.
Some of the most common signs that you need to hire an electrician include:
Flickering or dimming lights

Smoke or strange sounds coming from switches, circuit boards, or home appliances

Warm, blackened, sparking, or inoperative power outlets

Constant tripping or blowout of circuit breakers and fuses

Electric shocks from home switches

Unexpected burning smells

Frayed or broken wires

Fluctuating or inconsistent power
Some symptoms may seem comparatively mild or unimportant — but they could point to larger, more costly damage down the road. Red Star Electric can stop major damage from happening before it starts and get your home electricity back up and running.
Residential Electrical Repair Services
When you do start noticing some of the signs of electrical problems in your home, it's time to call for residential electrical repairs. Some of these issues may be emergencies, so we are always available for 24-hour emergency services. We also have many appointment times throughout the rest of the week if the electrical repair can wait until morning. As with all of our residential electrical services, we offer neighborly services at fair prices.
Residential Outlet and Switch Repair
Without outlets and switches, you wouldn't even be able to use the electricity in your home. That's why having the right outlets and switches is so important for making your electricity accessible and convenient for you and your family. You'll need residential electrical repair services right away if you are having issues with this part of your electrical system. Some problems that you may encounter with your outlets or light switches include:
Large sparks when plugging in a device

Scorching around the light switch or outlet cover

Covers that are warm to the touch

Light switches that are stuck or difficult to switch on

Loose light switches

Plugs that won't stay in your outlets
When your outlets and switches get old and worn out, call a residential electrical contractor for outlet and switch repair in White Plains, NY.
Need to schedule an appointment with a skilled residential electrician in White Plains, NY? Give us a call today at (914) 310-6609.
Residential Lighting Repair
When the sun goes down, most people want to be able to turn on the lights and enjoy a few more hours with their family before bed. This can become frustrating when you have broken light fixtures. Call us for residential electrical repairs if your lights are not turning on or if you notice flickering and dimming lights.
Residential Electrical Panel Repair
Every home needs a reliable electrical panel for the electricity to be safe. A good electrical panel can last for many years, but you may start to notice problems as it gets older. Our team of professional electricians is always here for residential electrical services in White Plains including electrical panel repair services. If you notice a burning smell or see smoke or scorch marks near your panel, you'll want to take advantage of our emergency repair services.
Residential Electrical Installation Services
At Red Star Electric, we can install anything in your home from new wiring to a new electrical panel. We are your neighborhood source for residential electrical installation services, big or small. During every installation, we focus on safety because we want your electrical system to be something that you can rely on without worrying about the hazards that come with a poorly done installation. We always recommend calling a licensed electrician instead of trying to do the installation by yourself.
Residential Electrical Panel Replacement and Upgrades
If you are about to add anything to your home such as a hot tub, a new room, or an EV charger, there's a good chance that you'll need to upgrade or replace your current electrical panel so that you have space on your panel for all of your appliances and devices. We offer residential electrical panel replacement and upgrades in your area. As part of our residential electrical services, our team of electricians can come to your home and recommend a panel that will have enough amperage for your current and future electrical needs. 
Residential Electrical Wiring Services
It's always important to have a trusted residential electrical contractor come and take care of your electrical wiring installations. You don't want to end up with faulty wiring that could pose a danger to your home and your family. We guarantee quality and safety with every residential electrical wiring installation we perform.
Residential Lighting Installation
If your energy bills are too high, or you would like each room in your home to feel more comfortable, inviting, and open, having us install new lighting can make a big difference. Lighting installation is one of our residential electrical services in White Plains. We can install light fixtures, chandeliers, ceiling fans, recessed lighting, LED lighting, and much more.
Residential Electrical Inspections
Residential electrical inspections are crucial for keeping homes safe and up to code. If you haven't had your home inspected for a while, it may be time to have it looked at by an electrician. We can come and inspect every part of your electrical system to make sure there is no faulty wiring or malfunctioning components. We'll let you know if there are any residential electrical services that you need to ensure the safety of your system.
Red Star Electric's Hassle-Free Guarantee
Electrical problems can be a source of anxiety and alarm — not to mention great expense. That's why at Red Star Electric we make every effort to provide the most complete service in White Plains, NY, and we stand behind our work with a comprehensive guarantee.
Our Hassle-Free Guarantee means we put your needs first. For every service Red Star Electric provides, we promise:
A 3-year warranty on installations

A lifetime warranty on service upgrades

Full compliance with local and national electrical codes

Complete explanations on the scope of work and price estimates

Total protection of your home and fixtures while we work, including shoe coverings and drop cloths

Paperwork filings and inspection scheduling with local authorities

Accurate answers to all questions from you, your homeowner's association, condo board, inspectors, and other relevant parties

Friendly and courteous customer service before, during, and after your appointment
Call Red Star Electric for Residential Electrical Services in White Plains
Red Star Electric knows you'll find plenty of options when you search for an electrician near you. That's why we work harder to separate our services from the rest of the pack. Whether you require minor repairs or a complete residential electrical upgrade, trust our team for all of your electrical needs.
For more information on our residential electrical services or to schedule a service with one of our electricians, contact us online or give us a call at (914) 310-6609. Our electrical professionals are standing by to assist you.