Electrical Services in White Plains, NY
Modern homes depend on electricity to function, and when something isn't working properly, it can be a real hassle. There are many uses that electricity has at home, such as using appliances and devices and allowing people to see even at night. When your electrical system has a problem, it can impact multiple areas of the home. If you require any type of residential electrical services or commercial electrical services, count on the professionals at Red Star Electric.
When you have an electrical issue in the home, it can be more than annoying. These types of issues have the potential to be dangerous as well. Electrical issues such as outlets or switches sparking are not only a fire hazard, they can be quite dangerous as well. Don't attempt to resolve complicated electrical issues on your own.
For more information on our electrical services or to schedule an appointment with one of our professional electricians, contact us online or give us a call today at (914) 310-6609.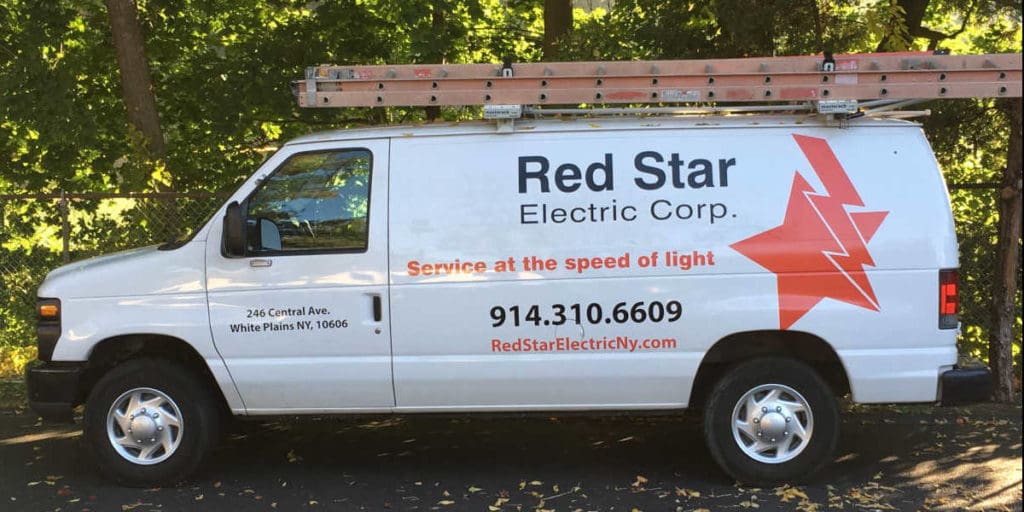 Expert Electrical Services You Can Depend On
A professional electrician has the certification and training to carry out all types of electrical services that are needed in a home. Whether it's a new home or an older home in need of electrical upgrades, our experts can manage practically anything. As one of the top-rated electrical contractors in the White Plains, NY area, Red Star Electric will always be here to help with all of your electrical needs. From repairs and installations, to upgrades and updates, our highly skilled electricians can handle all types of electrical projects.
Electrical Rewiring
Your electrical system may not be up to the safety code now if it has not been updated in years. A circuit repairman can revamp your home with the most recent innovation to keep your family sheltered against unsafe practices from an earlier time. Aside from keeping your family safer, new electrical wiring typically is more energy efficient too, and can lead to a lower energy bills.
Smart Electricians for Smart Technology
Our skilled electricians are also proficient in smart technology as well, offering our customers a variety of custom electrical services. We are experienced at installing the latest types of technology to enhance your home or business. Smart lights have a longer life and some of them come with other capabilities. Connecting your lighting system to a voice-activated speaker lets you adjust the lights from the comfort of your couch or bed.
It is easy to make the switch if you are already employing a smart speaker in your home. Some other popular smart devices that homeowners are currently installing include thermostats, doorbells, fans, and even smart outlets. There is no need to have any invasive demolition or construction to merge these technologies into any household. If you are interested in making the upgrade to a smart home, then you need to speak to your local electrician to get an estimate of the cost.
Trust Red Star Electric for All of your Electrical Services
No matter what type of electrical issue you have, it can become even more complicated when you attempt to fix it yourself. Instead, count on a professional electrical company to ensure that all of your electrical services are performed safely and correctly. A professional electrician will ensure that the job is done right, meets all code requirements, and meets the expectations of our customers.
We can help with any of the following electrical services, and more:
Meter Base Services
Electrical Switches
Smoke and Carbon Monoxide Detectors
Exhaust Fans
Solar, Motion Sensors
Electrical Inspections
If you have an older home, then you need to schedule its electrical safety inspection. The old electrical work and appliances can be considered unsafe and could cause electrical shocks, fires, or other dangers that can put your family at risk. Upgrading can help in the future to avoid greater issues and make it easier to sell your home if you plan on moving.
On the flip side, if you are considering buying or have just purchased a home, have it checked by a professional technician to make sure everything is safely installed and working right. The investment in upgrades and safety checks are worth the effort, even if it is just for peace of mind.
Some of the things that an electrician can do are new construction, indoor wiring, outdoor wiring, repairs, and installations. No matter the kind of electrical job that you need, a professional electrician can do it. If you want a quick and safe service, call a professional electrician in your local area.
Professional Electrical Services in White Plains, NY
Electricians will often provide emergency services and arrive ready to deal with your electrical problem in a fully stocked vehicle. There's no need to live with the ongoing inconvenience and danger of faulty electrical wiring. Contact Red Star Electric for all of your electrical needs. The sooner you take care of your electrical issues, then the sooner your home will be safe again.
For more information on our electrical services or to schedule a service with one of our electricians, contact us online or give us a call at (914) 310-6609. Our electrical professionals are standing by to assist you.