Electrical Panel Upgrade Services in White Plains, NY
Your home's electrical panel goes by many names, including a distribution board, breaker panel, circuit breaker panel, electrical panel box, or main electrical panel. Regardless of what you call it, at some point age and technology can catch up with even the best-equipped panels, making an electrical panel upgrade necessary.
Electrical panels direct power to the rest of your home, ensuring that your appliances and lights work as they should. If your panel struggles to deliver electricity to the appliances in your home, it's time for an electrical panel upgrade. That's where our team can step in and help. Red Star Electric's licensed electricians can walk you through the electrical panel upgrade process to ensure that your home has the power it needs.
For more information on our electrical panel upgrade services or to schedule an appointment with one of our professional electricians, contact us through our website or give us a call today at (914) 310-6609.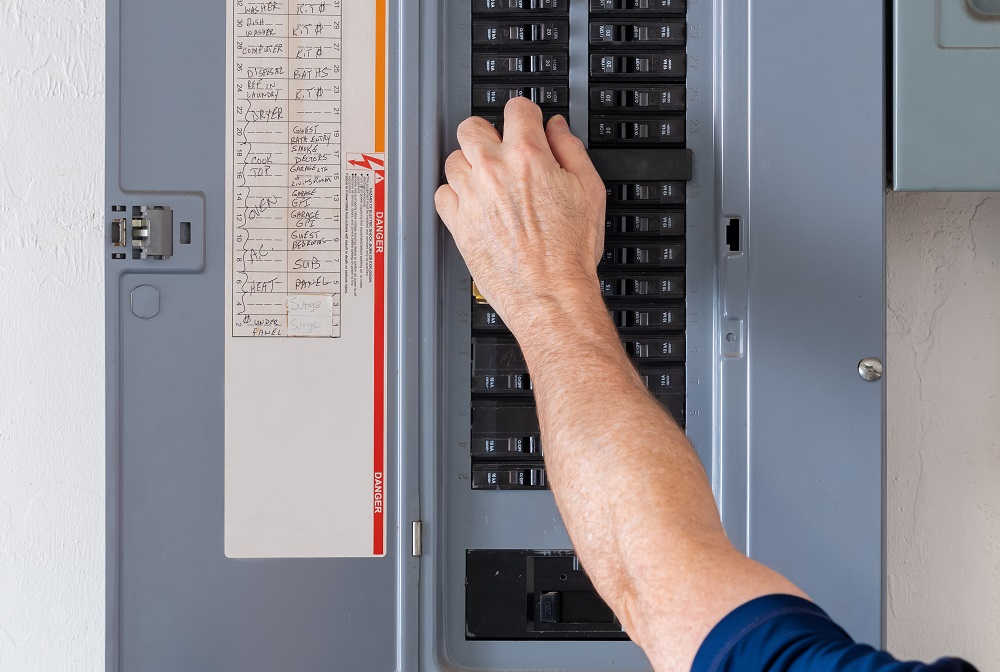 When to Consider an Electrical Panel Upgrade
A malfunctioning electrical panel spells trouble for the appliances in your home. Unfortunately, it's not always easy to tell whether the devices in your home are malfunctioning or if you need an electrical panel upgrade.
Specific symptoms give away a failing electrical panel over malfunctioning appliances. These include:
A fuse box

Frequently failing circuit breakers

Improperly installed electrical outlets

Damaged electrical outlets

Flickering lights

Crackling, bussing, or other strange outlet noises

Higher than average energy bills
While you can inspect your home's wiring on your own time, our team can do the hard work for you. Our experts can examine your home and identify any signs of panel wear and tear. If the damage seems significant or your panel lacks power, our experts will recommend an electrical panel upgrade.
Electrical Panel Upgrades: Where to Begin
Our team of electricians can upgrade your electrical panel in a few different ways. While we'll need to take care of any home-related damage before we get started, we'll also ensure that your new panel meets your property's needs. Sample electrical panel upgrades can include:
Improving Faulty Wiring
If the wiring attached to your electrical panel is out of date, then it can quickly start a fire in your home. Luckily, faulting wiring tends to give itself away via symptoms like:
Flickering lights

Electrical shocks near outlets or appliances

A burning smell

Scorch marks near outlets

Warm electrical panels
Our Red Star Electric professionals can fit your electrical panel with new wiring, limiting your fire risk and ensuring that your appliances work as they should.
Adding Additional Appliances to Your Panel
Even though it may be powerful, your electrical panel still has a limited capacity for accessories. If you need to equip your panel to better take on additions to your home, then you'll be in the market for an upgrade.
Adding Additional Circuit Breakers
If you have a fuse box in your home, you need to reach out to our team to discuss an electrical panel upgrade. Fuse boxes are on the older side of electrical technologies, and they have a more difficult time dealing with the power demands of modern appliances. Our professionals can replace your fuse box with circuit breakers.
Looking to the Future
The future is filled with exciting technological promises. The only problem with this rapid development is the demands it places on the average home. If your electrical panel was built to support power products released in the early 2000s, then it's time for a significant electrical panel upgrade.
You'll want this upgrade even if you're not bringing new appliances into your home. The more up-to-date your electrical panel is, the more smoothly things will run in your home.
Pre-Sale Upgrades
You may also want to upgrade your circuit breaker panel before putting your home up for sale. If you take preliminary steps to ensure all of the appliances in your home function as they should pre-showing, then you're more likely to sell your home for something close to your listing price.
Electrical Panel Replacement
Our team at Red Star Electric may also determine that your home need electrical panel replacement. If age, water, or pests have damaged your electrical panel, it is unsafe, and you should stop using it. While a total electrical panel replacement is not the same thing as an panel upgrade, it still ensures that you can safely use the devices in your home without overwhelming your circuit breakers or otherwise damaging your wiring.
Contact an Electrician You Can Trust – Call Red Star Electric
If you've been having trouble keeping the appliances in your home operational, then it's time for an electrical panel upgrade from Red Star Electric. Whether you've been dealing with faulty outlets or need a panel that can handle more amps, our team can safely and effectively install your new panel so that you can get back to your life.
For more information on our electrical panel upgrade services or to schedule a service with one of our electricians, contact us online or give us a call at (914) 310-6609. Our electrical professionals are standing by to assist you.