Ceiling Fan Installation Services in White Plains, NY
Red Star Electric has years of experience installing, maintaining, and repairing electrical systems. Among other electrical services, we offer expert ceiling fan installation services in White Plains, NY and the surrounding areas. Count on our knowledgeable and experienced electricians to handle all of your ceiling fan installation and repair needs.
For more information on our ceiling fan installation services or to schedule an appointment with one of our professional electricians, contact us or give us a call today at (914) 310-6609.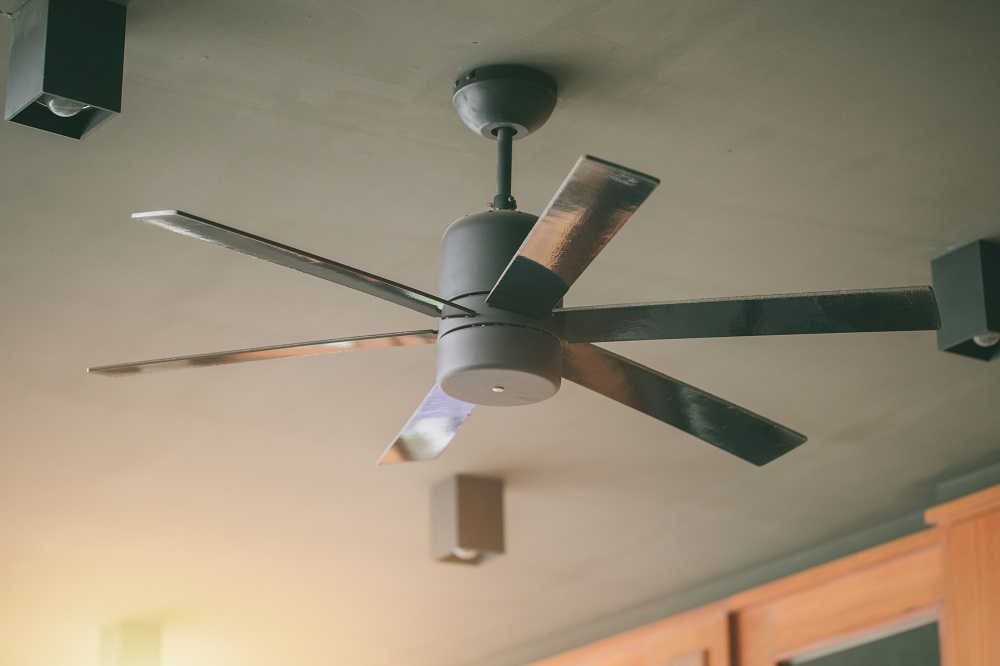 Advantages of a Ceiling Fan Installation
Though they aren't the same as cooling or heating systems, ceiling fans circulate the air in a room and aid other systems in creating a comfortable climate and living space. Ceiling fans have several advantages, including saving you money. With weather temperatures becoming more extreme over the years, ceiling fan installation is increasingly advantageous and economical.
Improved Air Circulation
Ceiling fans are more efficient at circulating air through a room than other types of fans. Anyone who has been outside on a hot, windless day can tell you that just having a breeze move the air around helps it feel cooler. In the summer, a fan in the room moves air over your skin, and this can help your body's evaporative cooling system, so you feel cooler.
If you choose a ceiling fan with a reversible motor, which is prudent, in the winter, you can set the blades to circulate in the opposite direction, which pushes the warm air down and distributes the heat around the room.
Lower Energy Costs
The best advantage of ceiling fan installation may be cost savings. Both air conditioning and heating systems can be costly to run, especially in extreme temperatures. Air in rooms with fans is better distributed. In turn, this enables you to adjust the thermostat a few degrees, which can save you money over time.
Odor Reduction
Sometimes, your kitchen or bathroom can produce odors.  Related smells can linger around the house, such as in the living room. A ceiling fan installation can help combat this problem by offering better air circulation. When the air is moving, odors won't linger or sink into the furniture and carpets.
Stylish Accent
Ceiling fans come in a wide variety of sizes and styles. Having a ceiling fan in a room is useful and economical. It can also complement a room's decor and theme. Once you select the fan that is right for you, Red Star Electric's professional and experienced technicians can complete the ceiling fan installation.
Ceiling Fan Installation Options
When choosing a ceiling fan, there is a wide variety of options and styles at your disposal. There are several other factors to consider, such as size, remote abilities, blades, and the like. With the proper outdoor setup, you can even get a ceiling fan installed in your patio area, so you can have a breeze when you sit outside.
Size
Smaller ceiling fans work well in smaller rooms, but they may not be as efficient in larger rooms. The industry measures fans in cubic feet per minute (CFM) per watt of electricity.
An efficient fan can produce 100 CFM, while one that is not as good may only deliver 30 CFM. That's why it's important to consider not only the size of the room, but also the size of the fan when considering ceiling fan installation.
Motors
Though it may be more expensive initially, if you purchase a ceiling fan with a DC motor, these models are more energy-efficient and can increase your long-term energy cost savings.
Remote Control and Lights
Selecting a ceiling fan with a wireless remote can be convenient, especially for ceiling fan installation in rooms with higher ceilings. Remote options vary with different models, but most have on/off switches, speed adjustments.
Many ceiling fans come with lights, which can be an excellent way to add more light to any room. Some fans come with dimmer or dimmer controls on the remote so that you can control the brightness of the light.
Number of Blades
The more blades a ceiling fan has, the quieter it is. For example, a ceiling fan with four blades is quieter than one with three. Numerous blades can make the fan heavier, which means it requires a more powerful motor. Though longer blades are more efficient, you need to worry about the weight of your fixture, too.
A heavier model of ceiling fan also requires a sturdier, more secure mount. Red Star Electric's knowledgeable technicians can make sure the mount is safe and well-placed if you call us for your ceiling fan installation.
Call Red Star Electric for Ceiling Fan Installation Services
If you already have ceiling fans in your home, you can still call us! Red Star Electric also offers services on the motors and wiring of existing ceiling fans. Over time, ceiling fans can experience problems and need maintenance or repair.
If your fan is making screeching or squeaky noises, or if it isn't working as well as it should, it's a good idea to have a technician look at it. At Red Star Electric, we offer hassle-free and affordable services, and our staff is knowledgeable, friendly professionals.
For more information on our ceiling fan installation services or to schedule a service with one of our electricians, contact us online or give us a call at (914) 310-6609. Our electrical professionals are standing by to assist you.