Electrical Wiring & Rewiring Services in White Plains 
For many homeowners, wiring or rewiring a house can feel like an overwhelming challenge. After all, wires run through every wall in your home. If there's a problem in one spot, there may be issues elsewhere. Particularly in older homes, wiring issues can be deep-seated and pervasive. The most important thing is that your electrical wiring and rewiring gets taken care of by a trained professional.
Red Star Electric provides expert electrical wiring and rewiring services for our customers. When we wire or rewire your home, we ensure that everything is in tip-top shape, so you can enjoy a safer and more efficient electrical system.
Contact us online today or call (914) 310-6609 to schedule electrical wiring and rewiring services in White Plains, NY, or the surrounding areas.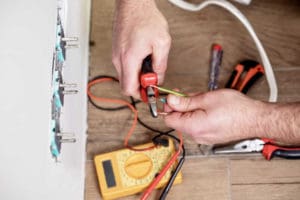 House Wiring and Rewiring
House wiring gets more complicated as time goes on – and not just because of improvements in technology. Older homes tend to have outdated components, such as aluminum or knob and tube, so they often require a professional for electrical rewiring.
Because these types of wiring aren't designed to handle the amount of power demanded by modern devices and appliances, the risk of electrical fires goes up with each passing year. Our electricians will eliminate that risk by rewiring your home with a modern electrical system.
Outlet Wiring
Outlets are the gateway to powering your devices and appliances. But not all homes are equipped with enough outlets for your needs. Some outlets may even be damaged. Our professionals will repair or replace your damaged outlets with proper outlet wiring, adding more versatility to your home.
With Red Star Electric, you have several types of electrical outlet installations to choose from, including GFCI, AFCI, 20A, and USB. We can help you decide which option is best for each room in your home.
GFCI Wiring
Since their introduction, GFCI outlets have eliminated much of the risk of electrocutions due to outlets. Because they're so effective, they're required to be installed in bathrooms, kitchens, garages, and anywhere else moisture might be present.
The experts at Red Star Electric are skilled in GFCI wiring installation. Our electricians can add GFCI outlets wherever you want or need to ensure your home is up to code.
Switch Wiring
Switch wiring is essential for getting the most out of any space. Areas where there aren't enough switches to create the optimal amount of lighting, like stairs or hallways, can benefit from this type of electrical rewiring, along with areas where a switch would be convenient.
Red Star Electric also helps with damaged switches. If any of your switches are emitting smoke or strange sounds or if you've been shocked by one of them, we can inspect the switch in question and make the necessary repairs. We're here to help with all of your switch wiring needs.
Ceiling Fan Wiring
Ceiling fans are one of the most effective ways to circulate air throughout your home. They cost next to nothing to run all day, and they're beneficial at all times of the year. Ceiling fans can easily cool a room by promoting airflow, and they help with heating by forcing warm air back down as it rises.
Simply pick out a fan that you like, and our team will get it installed quickly. Whether you want a fan with a remote, a fan and light combo, or another option, we're up to the task.
Outdoor Electrical Wiring
Outdoor electrical wiring and rewiring can lead to a wonderful display of nighttime lighting in the yard, driveway, deck, patio, or poolside areas. The electricians at Red Star Electric are experienced lighting designers who are ready to help design a lighting system you will fall in love with.
With outdoor lighting, you can easily walk around your property at night and increase the value of your home by boosting its curb appeal. With security lighting, you can effectively deter pests and burglars from getting too close for comfort. 
When to Call an Electrician for Electrical Wiring and Rewiring
When it comes to electrical wiring and rewiring, there are two situations when you should call an electrician: when there is a lack of something — whether it's lighting or outlets — or when something is wrong with your current wiring.
Keep a lookout for any areas in your home where your wiring may be damaged. Problem signs include sparking, buzzing, issues with functionality, and visible scorch marks. If you suspect that there's a problem, don't hesitate to call Red Star Electric for help. It's always better to be safe when it comes to electrical wiring.
Call Today for Your Free Inspection
Red Star Electric has been helping our customers with electrical wiring and rewiring for years. Our electricians are fully licensed and deeply experienced. Whether you need extra outlets or a full suite of outdoor lighting installations, we can help.
For more information on our electrical wiring and rewiring services in White Plains, NY, and the surrounding areas, or to schedule an appointment with one of our professional electricians, contact us online or give us a call today at (914) 310-6609.